Why your views matter
We are consulting on the following proposed changes in order to gather or confirm views, and information, about the potential impact of this Airspace Change Proposal.
The proposed changes would occur above 7,000ft and within existing delegated airspace, mostly over the North Sea.  We are seeking feedback from any stakeholders who may be affected; these are most likely to be users of this airspace and aviation stakeholders.  However we welcome feedback from any interested parties.
The proposed changes would alter westbound traffic flows from Maastricht Delta Sector (MUAC) which currently converge on a single COP named GORLO, as seen below.  These would be split into appropriate flows in order to reduce the complexity of the airspace and controller workload; alongside increasing capacity.  There have also been changes proposed to partially realign eastbound routes in order to reduce flightplan distances to the UK-Dutch FIR boundary.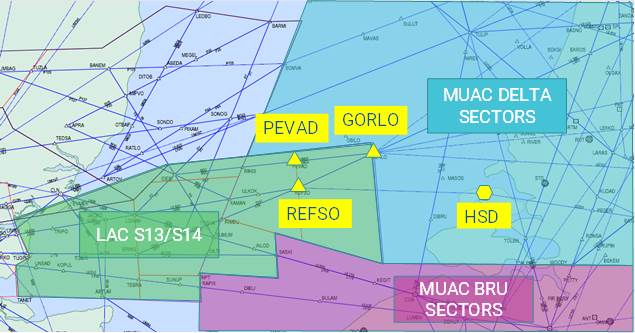 The proposed changes would affect the following primary traffic flows:
Heathrow, Gatwick, Luton, Stansted, London City and Southend arrivals and departures;
Arrivals and departures for smaller LTMA airports such as Biggin Hill;
Non-LTMA arrivals and overflights.
Diagrams showing a visual representation of changes to the eastbound and westbound flows can be found in Section 3 of the consultation document.  A link has been provided below.
These changes support the planned implementation of MUAC's free route airspace implementation (FRA-M) in the Netherlands, east of the area affected by the proposed changes presented here.
Your feedback on the proposals at this early stage will help us explore the potential impacts of the proposed changes.  We invite considered responses supported by evidence where possible.
Consultation Document
What Happens Next
During consultation we will be gathering feedback from stakeholders and any interested parties. 
Responses will be analysed and themed.  Shortly after the consultation finishes we will publish a consultation feedback document, which will summarise the themes and NATS' response to any issues raised.  Your feedback will be sent to the CAA and will be published after moderation.
The feedback document will be available for download via the CAA portal.  Any new requirements identified will be considered in the on-going design process.  The ACP will detail the design being submitted and make reference to changes that have been made to take account of consultation feedback.